Applecross is one of the most beautiful suburbs in Perth, boasting some of the biggest & most expensive properties we have come across. Applecross is a riverside suburb with some of the best views in Perth.
Every window cleaning job we carried out in Applecross has been interesting & challenging given the size of the houses in the suburb, but we have loved every window cleaning job we carried out in Applecross. We have a large clientele in Applecross making us a preferred window cleaning company in Applecross. Every client in Applecross has been amazing to work with and we have enjoyed every window cleaning service thoroughly.
This job was for a post construction window cleaning service that we were asked to carry out in Applecross. The client required that we remove all sticky marks, cement and tape on the windows by making sure that they are not damaged at all. All windows in the house were very large in size, which were at least 12 feet tall and 10 feet wide, which made it a challenging window cleaning job compared to the relatively smaller houses we usually work in other suburbs. But as always, we were up for every challenge as we believe that we will only grow as a company by taking up jobs that are challenging and would keep us learning every day.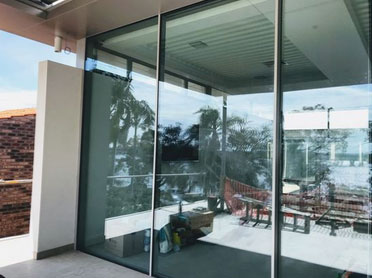 The most challenging part of this job was that the sticky marks on top of the windows and as we were not able to scrape any of the marks on the windows, we had to make sure that we let the chemicals soak into the tape, cement marks, etc on the windows before cleaning them up. And due to the size of the windows, we had to do most of the cleaning on top of the ladders, which were time consuming & labour intensive.
The chemicals Oomph and Cement & Concrete Remover came in very handy for this window cleaning service, as we were able to remove the marks without much effort. The Oomph chemical is great to use on sticky residue and the Concrete removing chemical was great in removing cement and concrete marks on the windows, which were left while building the house. There were some paints marks that we needed to remove using the Acetone chemical, which is very effective on paint marks. It is always advised to use gloves that are resistant to chemicals when using these chemicals as they are very strong but effective at the job that they do.
At the end of the job, we were able to provide an amazing window cleaning service to our client and he was very happy with the end result. Due to the sheer size of the house, it took us two days to finish off the window cleaning but it was well worth it as we were able to get all the windows spotless and streak-free. The client was happy with the time taken and mentioned that they did not expect the window cleaning to be done in two days and expected it to go on for few more days. But with our experienced team, we were able to get the window cleaning done effectively and on time as required by our client.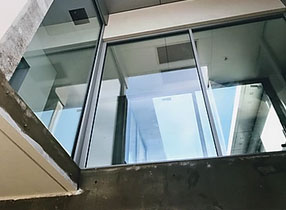 If you require a professional window cleaning team to get the window cleaning done in Applecross, please do not hesitate to fill an enquiry or contact us. We look forward to hearing from you.