As with most warehouses, the cleaning is only done usually once the lease ends and when it is to be handed over to the landlord. This was a warehouse that was not cleaned for years which made it quite a hard job, which required a lot of labour hours. We are always happy to take up a challenge as we learn a lot from every job and it helps our cleaners and company to grow.
With this job, there were four areas to be cleaned which was the warehouse, the office and the toilets. We tackled the job by getting two cleaners to clean the office, kitchen & the toilets while another two cleaners cleaned the warehouse area.
With a petrol powered pressure cleaner with a PSI of 3000+, it made our job a lot easier as it would have taken a lot more time if it was not for the machine. We try to always get the best machines for the job as it helps a lot to minimise the labour hours required and assures that the job is done efficiently. We invest heavily on equipment and machinery which makes our cleaners' job easier
Another challenge we had when cleaning the warehouse floor were sticky marks throughout the warehouse floor which meant that we had to spend considerable time removing them with the pressure cleaner
There also was a lot of cobwebs throughout the warehouse which needed to be cleaned. Luckily for us, we had cobweb brushes that reach up to three storeys, which made the cobweb removal pretty easy for us.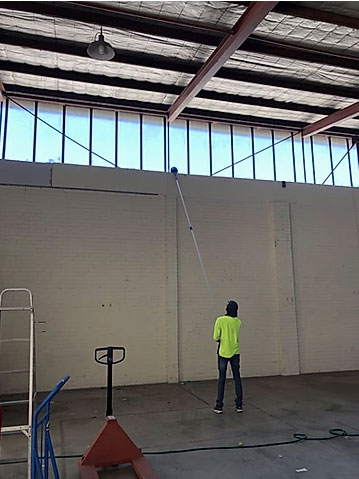 Cobweb Removal of Warehouse
A team of 4 cleaners were able to get the cleaning done in 5 hours which was quite remarkable considering the size of the job. The cleaners worked efficiently as they had done a lot of jobs together. The cleaners strategised how to tackle each task from the start of the job and the manager overlooked all the tasks that were carried out to make sure that the job was being done efficiently.
Contact us for all your warehouse & commercial cleaning requirements in Perth, WA.