We were called in for a Upholstery Cleaning job in Perth which was quite exciting as we had not done an upholstery cleaning for quite a while and was long overdue for a cleaning. We spoke with the client over the phone and he mentioned that he needed to get his upholstery properly steam cleaned to remove the marks. We were up for the challenge as always and went early in the morning for the job.
We allocated a team of two cleaners for this particular job, as upholstery is quite labour intensive depending on the stains and we wanted to make sure that the cleaners do not get too tired at the end of the job. When there are two cleaners this mean that they can share the tasks such as alternate between each seat clean between them.
We started off the cleaning by assessing the marks on the upholstery. There were a lot of grease, oil & food marks which we were ready to tackle. One cleaner was setting up the upholstery cleaning machine by filling up the tank with water and by powering up the machine while the other cleaned got the chemicals ready for the spot cleaning & pre-spraying. We used a combination of chemicals for different stains such as Sensation, Grease Release, Coffee Break, etc for the spots and used a pre-spray chemical specifically designed for upholstery.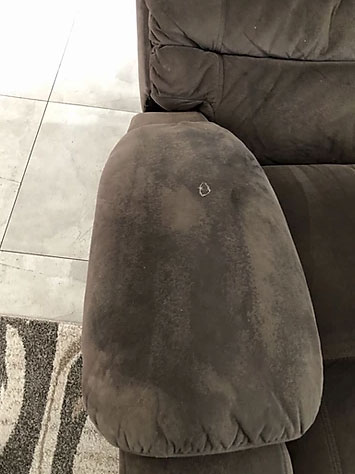 Before Upholstery Cleaning
One cleaner started by spot cleaning the marks such as oil, food, protein, etc while the other cleaner plugged in the pre-sprayer and pre-sprayed the upholstery as the spots were cleaned. Once the spotting and pre-spraying was complete, we plugged in the upholstery cleaning tool to our steam extraction machine and started off our cleaning.
The results were amazing and we were able to remove all the stains. It is a great feeling when we are able to remove all stains as some stains tend to be stubborn and difficult to remove.
At the end of the day, it was a job well done, and a customer who was very happy with the cleaning.
Contact us for all your upholstery cleaning needs in Perth as we take great care of your upholstery. No job is too big or small as we want to make sure that you are left delighted at the end of the job.